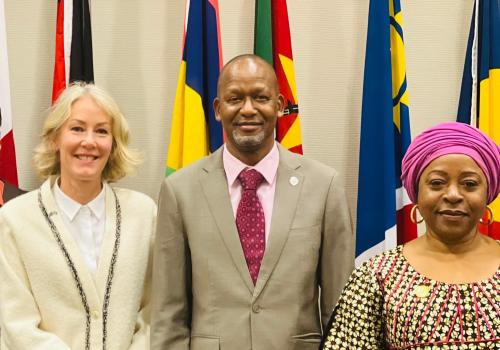 The SADC Executive Secretary H.E Elias M. Magosi and Head of the European Union (EU) Delegation to Botswana and SADC, Her Excellency Ambassador Petra Pereyra today co-chaired the SADC-EUD Quarterly meeting where they reviewed implementation of joint programmes in support of regional cooperation, integration, peace and security; and natural resources management. 
The SADC Secretariat is on a fundraising drive for the prioritised projects covering six strategic priority areas of the Regional Indicative Strategic Development Plan (RISDP) 2020–2030 namely: 𝗧𝗵𝗲 𝗙𝗼𝘂𝗻𝗱𝗮𝘁𝗶𝗼𝗻: Peace, Security, and Good Governance; 𝗣𝗶𝗹𝗹𝗮𝗿 𝗜: Industrial Development and Market Integration; 
𝗣𝗶𝗹𝗹𝗮𝗿 𝗜𝗜: Infrastructure Development in Support of Regional Integration;
𝗣𝗶𝗹𝗹𝗮𝗿 𝗜𝗜𝗜: Social and Human Capital Development; 𝗖𝗿𝗼𝘀𝘀-𝗰𝘂𝘁𝘁𝗶𝗻𝗴 𝗶𝘀𝘀𝘂𝗲𝘀 including Gender, Youth, Environment and Climate Change, and Disaster Risk Management; and 𝗦𝘁𝗿𝗮𝘁𝗲𝗴𝗶𝗰 𝗠𝗮𝗻𝗮𝗴𝗲𝗺𝗲𝗻𝘁 of RISDP 2020–2030. 
The SADC Executive Secretary was accompanied by the SADC Deputy Executive Secretary for Regional Integration Ms. Angele Makombo N'tumba, SADC Directors.