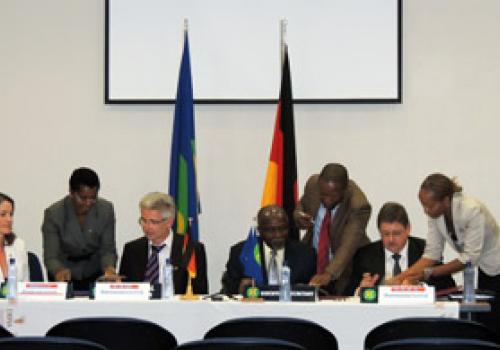 The Southern African Development Community (SADC) and KfW Development Bank on behalf of the German Federal Ministry for Economic Cooperation and Development (BMZ) have agreed on establishing a Regional Fund for Water and Basic Sanitation. The Fund will be financed with an initial grant contribution of EUR 10 million by the Government of the Federal Republic of Germany through KfW. The Fund will be managed by the Development Bank of Southern Africa (DBSA).
The signing of the agreement on December, 18th 2012 at the SADC Headquarters in Gaborone, constitutes a major step in the development cooperation between SADC and Germany. 
SADC's Executive Secretary Dr Tomaz Salomão underlined the long standing and strong support of the German Government to SADC Program of Action – and noted and welcomed the flexibility of the new instrument. He observed that SADC Member States are still facing huge investment challenges in water supply and sanitation and that this will go a long way in bridging this investment gap.
Already during the process of Fund preparation, the German Development Cooperation (GIZ) has supported SADC in developing a pipeline of projects to be proposed to the new Fund. Therefore, expectations are high that shortly after the inception period first projects can be selected for financing. Major criteria for project selection will be the regional impact and relevance for poverty reduction.
Examples of possible interventions are cross-border irrigation measures, flood protection measures or water supply systems like the Kunene Water Supply and Sanitation Project between Angola and Namibia which has regional impact.