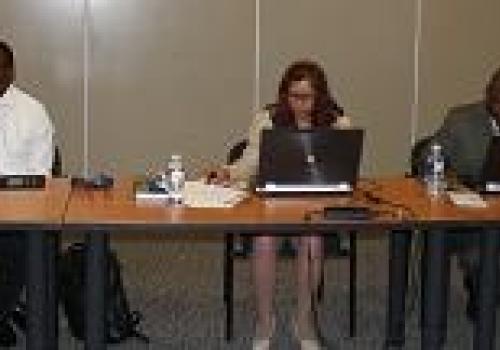 A two-day Holistic Approach to Translating workshop for Southern African Development Community (SADC) Translators and Executive Secretaries was held in Gaborone, Botswana on October 4-5, 2016 under the theme: "A Wide-Ranging Approach to Translating".
The workshop was officially opened by SADC, Senior Officer Human Resources and Administration, Mr. Hendrix Tonde, on behalf of the Director of Human Resources and Administration. Also in attendance was the Portuguese Lecturer at SADC and representative of Instituto Camões, Dr.Paulo Serra. Dr. Ana Cabral, a Free-Lance Translator  was the facilitator.
The objective of the workshop was to provide the participants with a comprehensive insight over several elements involved in the process of translation which contribute to the production of quality work. By the end of the workshop it was expected that the participants should be able to perceive their work as a link in the quality chain, and not as an isolated task.
These two days covered overall aspects of the preparation, production and conclusion of the translation process, with particular emphasis on self-performance, approach to document quality, pre-editing, style guide and checklist, translation steps, machine translation, post-editing, terminology and standardization.
The workshop was organized within the framework of the Protocol of Cooperation between Instituto Camões, from Portugal, and SADC Secretariat which was signed in March 2008.
his was the second workshop for translators organised within this framework, the first one was held last year on May 28-29, 2015. It was facilitated by Dr. Carla Maciel from Mozambique under the theme. "Translation and Globalization: Implications for Practice".