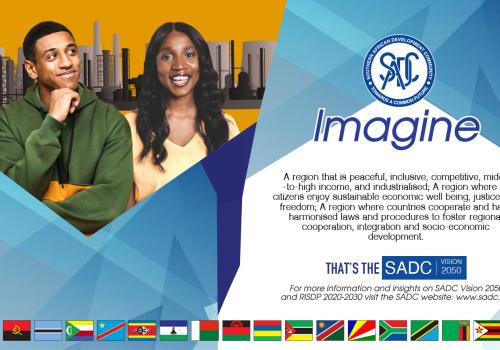 The Southern African Development Community (SADC) Regional Indicative Strategic Development Plan (RISDP 2020-2030) and the SADC Vision 2050 are two strategic plans which seek to further deepen regional integration and foster development in the southern African region.
The RISDP 2020-2030 operationalises the SADC Vision 2050, which is a long-term ambition by SADC that sets out the aspirations of the Region until 2050. Both RISDP 2020-2050 and Vision 2050 provide a guiding framework for implementing SADC's regional integration and developmental agenda and programmes for the next 10 years.
By 2050, SADC is to:
attain higher levels of peace and stability, enabling the further  prioritisation, pursuit, and achievement of its objectives of  socio-economic development, poverty eradication and regional  integration.
be an industrialised and integrated region, where citizens  equitably benefit from the opportunities of a stable regional  market that is commensurate with the African Union's  Accelerated Industrial Development for Africa (AIDA), Science,  Technology, and Innovation Strategy for Africa (STISA),  African Mining Vision (AMV), Boosting Intra-African Trade  (BIAT), and is well integrated into the broader African  Continental Free Trade Area (AfCFTA).
have efficient and effective, technologically driven cross-border  infrastructure services and networks to support and facilitate  deeper regional integration. 
have a high quality of life, in which its citizens are well educated  and enjoy long, healthy, and productive lives that reinforce the  link between economic growth and sustainable human.  development, in order to end poverty in all its forms. This strong  and inclusive human capital base will enable SADC citizens to  play a pivotal role in the region's socio-economic development,  through enhanced productivity.
be a community where citizens are treated equally, regardless  of their gender, and our youth are empowered. Policy decisions  will be based on reliable data and positive engagement  between Member States and non-state actors based on mutual  respect.