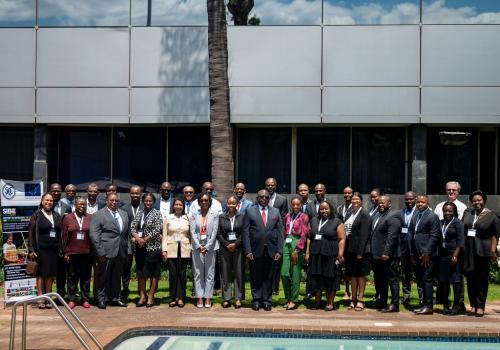 Stock exchanges in the Southern African Development Community (SADC) contribute not only to the development of the financial system, but also to the economy through facilitating fund raising for Member States and companies to grow and expand. 
SADC has employed significant resources in enhancing human capabilities and harnessing possibilities offered by capital markets in the SADC Member States. In this regard, the SADC Secretariat through the European Union funded Support to Improving the Investment and Business Environment (SIBE) Programme convened a two-day training workshop in Johannesburg, South Africa, from 19th to 20th October 2023 to strengthen the capability of SADC Stock Exchanges in developing products that motivate Small and Medium-Enterprises (SMEs) to participate in capital markets.  
The main objective of this capacity building workshop was to contribute towards SADC's economic growth, industrialisation, and creation of employment through increasing access to funding to the SME sector which would culminate from an increased array of capital markets products that are suitable for SMEs. 
SMEs are the main drivers of economic growth, employment, innovation and even tax revenue. However, this sector has limited access to adequate financing instruments which makes it difficult to grow without relying excessively on bank loans which demand a lot of collateral. 
The SADC Industrialisation Strategy and Roadmap 2015-2063 focuses on increasing the participation of SMEs in the manufacturing sector, while Stock Exchanges in the Region are platforms for raising capital for SMEs. Nevertheless, the majority of SMEs in the Region are inhibited from participating in capital markets because of high barriers to entry that include but are not limited to listing costs, corporate governance demands, fear of loss of control, limited knowledge of the capital markets ecosystem, and inadequate products that serve the needs of SMEs. 
Furthermore, there is limited capacity on the part of Stock Exchanges and other capital markets drivers on how to support the SMEs to participate in the capital markets. The SIBE Programme endeavours to assist the development of a harmonised securities market environment in the SADC Region. 
This workshop contributed to the aspirations of the SADC Strategy on Financial Inclusion and SME Access to Finance to accelerate financial inclusion programmes in all SADC Member States. Delegates from the SADC Committee of Stock Exchanges and representatives of capital market regulatory and supervisory bodies were sensitised on the need to make legal amendments with the aim of simplifying the listing requirements also on the existence of products that are suitable for SMEs to facilitate free movement of capital and mobilisation of financial resources through capital markets and promote economic growth in the region.