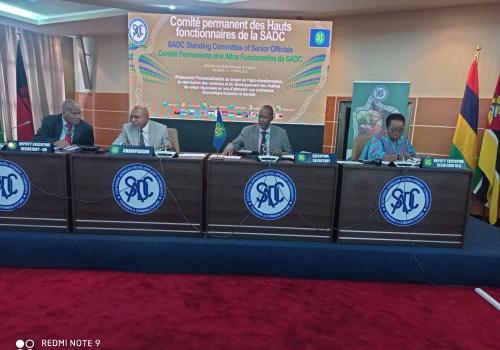 The Standing Committee of Senior Officials of the Southern African Development Community (SADC) kicked off their meeting on 13 March, 2023, ahead of the meeting of the Council of Ministers scheduled to be held on 18-20 March, 2023 in Kinshasa, Democratic Republic of Congo.
Speaking at the opening of the meeting, Ambassador Songhu Kayumba Donatien, Secretary General for the Ministry of Regional Integration and Francophonie of the Democratic Republic of Congo and Chairperson of the SADC Standing Committee of Senior Officials called on the delegates to thoroughly deliberate the issues with a common goal of promoting regional integration and development.
Ambassador Donatien highlighted that the DRC, as the current Chair of SADC, continues to promote and champion the SADC industrialisation agenda as a way of ensuring that SADC improves the livelihoods of the citizens of the region, and continues to be a competitive and effective player in international relations and the world economy.
The Council of Ministers meeting will be held under the 42nd SADC Summit Theme, which is; "Promoting industrialization through agro-processing, mineral beneficiation, and regional value chains for inclusive and resilient economic growth". The theme takes into account the urgent need to enhance the roll out of SADC industrialization and market integration programmes as contained in the SADC Regional Indicative Strategic Development Plan (RISDP) 2020-2030.
Among the key issues on regional integration and development, the Ministers will discuss the overall Status of the Implementation of Council and Summit Decisions; Status of Implementation of the Prioritised Intervention Areas for the Theme of the 41st SADC Summit of Heads of State and Government; Status of the Implementation Plan of the Regional Indicative Strategic Development Plan (2020-2030) and Operationalization of The SADC Humanitarian and Emergency Operations Centre (SHOC).
The SADC Standing Committee of Senior Officials is a technical advisory committee to the Council of Ministers and acts as a clearing house for the agenda of the Council of Ministers. The SADC Council of Ministers is responsible for overseeing the functioning and development of SADC and ensuring that SADC policies are properly implemented. 
The Executive Secretary of SADC, His Excellency Mr Elias M. Magosi, the Deputy Executive Secretary- Regional Integration, Ms. Angele N'tumba, Deputy Executive Secretary- Corporate Affairs, Ambassador Joseph André Nourrice and Permanent Secretaries, Directors and other Senior Officials from the SADC Member States are participating in this meeting of the SADC Senior Officials.