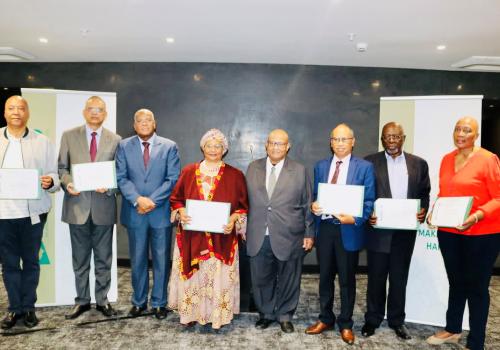 The Southern African Development Community (SADC) Secretariat, in partnership with the African Centre for the Constructive Resolution of Disputes (ACCORD), convened the Strategic Retreat and Training for the SADC Panel of Elders (PoE) and the Mediation Reference Group (MRG), from 16 to 19 November 2022, in Durban, Republic of South Africa.
In line with the SADC Mediation, Conflict Prevention and Preventative Diplomacy Structure, the PoE and the MRG were established with the mandate to foster political and security stability in Southern African region through the prevention, management and resolution of significant inter-state and intra-state conflicts.
The purpose of the induction meeting was to enable a clear understanding of the members on the mandate and functions of the SADC Mediation, Conflict Prevention and Preventive Diplomacy Framework, consider a Draft Three–Year (2022–2024) Strategic Plan and enhance the capacity of PoE and MRG members in mediation and conflict prevention.
The training also enabled the esteemed participants to acquire knowledge and expertise on conflict analysis, dialogue and peacebuilding. Furthermore, the PoE and MRG identified ways to strengthen the collaboration and harmonisation of efforts between their two (2) structures for consolidated conflict prevention interventions in the region.
Amongst the participants in this meeting was Her Excellency Dr. Joyce Hilda Banda, Former President of the Republic of Malawi and newly appointed member of the PoE. This is the second group of inductees, having the first group been inducted and presented with letters of appointment by His Excellency Dr. Mokgweetsi Eric Keabetswe Masisi, President of the Republic of Botswana on the 28th of February, 2022.
While delivering the opening remarks, Ambassador Joseph Andre Nourrice, SADC Deputy Executive Secretary of Corporate Affairs, emphasized on the indispensable and invaluable role the PoE and the MRG will play in the quest for lasting peace and prosperity in the region, within the unprecedented context of escalating tensions and conflict situations in the SADC region.