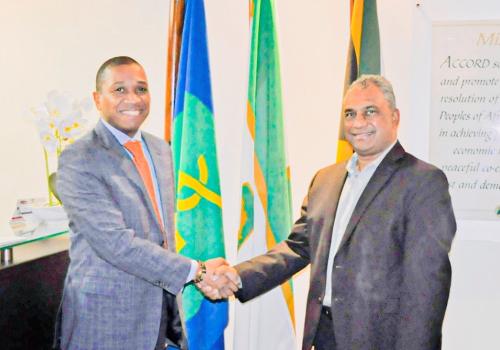 The Secretariat of the Southern African Development Community (SADC) and the African Centre for the Constructive Resolution of Disputes (ACCORD) have pledged to strengthen the cooperation in all areas relevant for the promotion of peaceful settlement of disputes towards maintenance of peace, security and stability in Southern Africa.
SADC and ACCORD signed the initial MoU to establish and strengthen their cooperation in 2015. Since then, the two organisations have jointly collaborated and implemented activities such as conflict analysis and mediation refresher training for the Mediation Reference Group (MRG); the workshop for the members of the SADC Electoral Advisory Council (SEAC) on conflict prevention of election-related conflicts and the regional consultation for the SADC Region on Women Peace and Security, as well as the induction of members of the Panel of Elders (POE) and the MRG.
The activities and initiatives identified in the revised MoU are aligned to the Regional Indicative Strategic Development Plan (RISDP) 2020–2030 Peace, Security, and Good Governance foundational pillar, specifically to Strategic Objective one: enhanced conflict prevention, management, and resolution systems, with early warning systems that are capable of tracking and monitoring political, security, and socio-economic threat.
The revised MoU highlights the following areas of cooperation, among others, the promotion of prevention, management and resolution of conflicts; the support to the SADC Mediation, Conflict Prevention and Preventive Diplomacy Structure; and support to the implementation of the Mediation, Conflict Prevention and Preventive Diplomacy Structures Strategy and Action Plan for 2022-2026 and the SEAC Strategic Plan 2020-2025 for the Prevention of Electoral–Related Conflict.
The MoU also underscores collaboration and exchange of good practices and lessons learnt on any thematic areas of Mediation, Conflict Prevention and Preventive Diplomacy initiatives as well as the capacity building, training, research and knowledge management.
The operationalisation of the MoU is, among others, expected to play a critical role in the activities of the SADC Mediation, Conflict Prevention and Preventive Diplomacy Structure and the implementation of its 2022-2026 Strategy.
The SADC Secretariat was represented by Mr. Jorge C. Cardoso, Director of the Organ on Politics, Defense and Security Affairs and Mr. Vasu Gounden, Executive Director, on behalf of ACCORD.