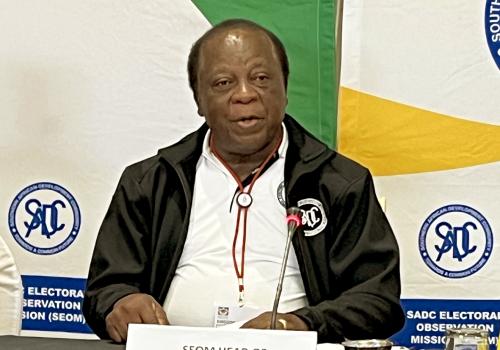 His Excellency Mr. Enock P. Kavindele, former Vice President of the Republic of Zambia and Head of the Southern African Development Community (SADC) Electoral Observation Mission (SEOM), officially launched the mission for the deployment of observers to four regions in the Kingdom of Eswatini on 22nd September 2023, at the Royal Villas Hotel in Ezulwini, Eswatini. The purpose of the SEOM deployment is to observe the upcoming General Elections of the Kingdom of Eswatini scheduled for 29th September 2023. 
In his address, H.E. Kavindele stated that the election of members of the House of Assembly in the Kingdom of Eswatini are in line with the national legal instruments and governed by the Constitution of the Kingdom of Eswatini through a comprehensive set of relevant laws, including the Elections and Boundaries Commission Act, the Voter Registration Act and the Elections Act.
He urged all stakeholders involved to ensure that the elections are conducted in a manner that is peaceful, free, fair, transparent, and credible. Most importantly, he encouraged voters to exercise their democratic right to vote without fear or prejudice by fully participating in the political process and voting in numbers.
He encouraged the observers to maintain an objective approach and conduct themselves with maturity, diplomatic tact, discretion, and an appreciation for the constitutional and cultural environment of the community. Moreover, he emphasised the significance of the role of the observers in the electoral process.
Also in attendance was Mr. Terry Rose, the Senior Officer for Politics and Diplomacy at the SADC Secretariat, representing His Excellency Mr. Elias Magosi, the Executive Secretary of SADC.
The SADC Electoral Observation Mission to the Kingdom of Eswatini consists of 47 personnel, these being from eight (8) SADC Member States namely, the Republics of Angola, Malawi, Mozambique, Namibia, South Africa, Zambia, Zimbabwe and the United Republic of Tanzania.
The launch was attended by a wide range of stakeholders amongst them being Government officials, Members of the Elections and Boundaries Commission (EBC) of the Kingdom of Eswatini, representatives of the diplomatic corps, Members of the Troika of the SADC Organ on Politics, Defence and Security Cooperation, Members of the SADC Electoral Advisory Council, law enforcement agencies, religious groups, youth organisations, civil society organisations, SADC election observers and the media.
On 1st October 2023, SADC will release the Preliminary Statement of the SADC Electoral Observation Mission in the Kingdom of Eswatini.