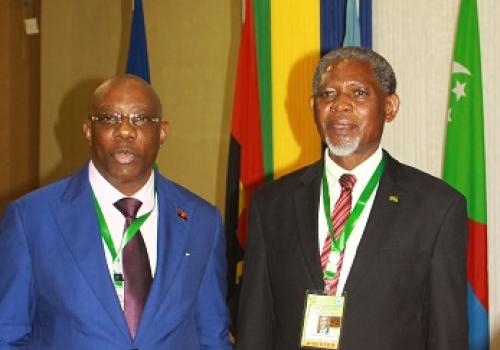 The Ministers of Justice/Attorneys General from the Southern African Development Community (SADC) met in Lilongwe, Republic of Malawi, on 28th and 29th July 2022 and recommended the approval of the Draft Memorandum of Agreement for the establishment of the SADC Humanitarian and Emergency Operations Centre (SHOC) by the Council of Ministers.
The purpose of SHOC is to coordinate humanitarian and emergency relief support to Member States affected by disasters within the Region.
The key functions of the SHOC are provision of technical support to National Disaster Management Entities and other regional and international stakeholders towards improved coordination of disaster risk management in the SADC Region; and establishment and maintenance of a regional Disaster Risk Loss and Damage       Database, and up to date content for the SADC Information Management System to contribute to the regional disaster risk publications and keep the Member States informed on all matters relating to the disaster risk management coordination mechanism in the Region. SHOC will also be responsible for the assessment, development and maintenance of minimum required capabilities and rosters of the Emergency Response Team and the SADC Standby Force as may be required for effective operation for disaster risk management coordination mechanism and humanitarian support at regional level.
The Ministers also considered and recommended to Council for approval the Draft Protocol Against Trafficking in Persons. The aim of the Draft Protocol Against Trafficking in Persons is to provide a framework of cooperation between SADC Member States in combating trafficking in persons and associated transnational organised crimes and cross-border crimes in the Region.
The Committee of Ministers of Justice/Attorneys General deals with issues that seek to promote the objectives of SADC as set out in Article 5 of the SADC Treaty and as mandated by the SADC Protocol on Legal Affairs.
Honourable Titus Mvalo, Minister of Justice and Constitutional Affairs of the Republic of Malawi and Chairperson of the Committee stated that the Committee contributes immensely to the realisation of the objectives set out in the SADC Regional Indicative Strategic Development Plan (RISDP) 2020-2030 which is a blue print for the social, economic and political transformation of the Region.
The Head of Legal Unit at SADC Secretariat, Ms Nthabiseng Liphapang, on behalf of SADC Executive Secretary, H.E Mr. Elias M. Magosi, commended SADC Member States for their continued support to the legal sector, which has enabled the Committee to discharge its mandate as provided for in the Protocol on Legal Affairs.
She said that the Committee provides the legal framework for SADC's cooperation and integration. She emphasised that the Committee also offers legal guidance and review of SADC legal instruments before they are considered, approved and adopted by relevant institutions of SADC, which are the SADC Council of Ministers and the SADC Summit of Heads of State and Government.