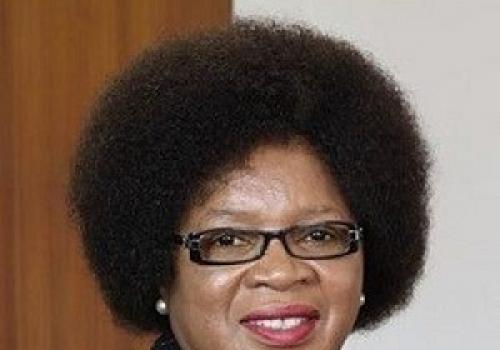 The Southern African Development Community (SADC) Ministers Responsible for Disaster Risk Management convened an Extraordinary Meeting to review progress on the development of a Draft SADC Humanitarian and Emergency Operations Centre (SHOC) Standard Operating Procedures (SOP).
The Centre will be responsible for the coordination of activities towards supporting Member States affected by disasters. The Ministerial meeting was held in a hybrid format on 1st December 2021, and was chaired by the Republic of Malawi.
The meeting was attended by Ministers or their representatives from Angola, Botswana, Democratic Republic of Congo, Eswatini, Malawi, Mauritius, Mozambique, Namibia, Zambia and Zimbabwe. The meeting was also attended by SADC Executive Secretary for Corporate Affairs, Ambassador Joseph Nourrice.
The meeting was preceded by a meeting of Senior Officials responsible for Disaster Risk Management.
When delivering her keynote address, the Minister of Forestry and Natural Resources of the Republic of Malawi, and Chairperson of Committee of Ministers Responsible for Disaster Risk Management, Honourable Nancy Tembo, said most parts of the SADC Region will between January and March 2022 experience normal to above normal rainfall, except for south-western fringes of Angola, western fringes of Namibia and South Africa.
She said this highlights the potential for torrential rains and floods that will threaten the lives and livelihoods of the people.
"It also highlights the potential for serious damage to the hard-earned infrastructure that has taken us decades to develop and therefore the need for the Region to be proactive and ready to deal with any emergencies that may occur," said Minister Tembo.
SADC Deputy Executive for Corporate Affairs, Ambassador Joseph Nourrice, informed the Ministers that the draft Intergovernmental Memorandum of Agreement (IGMOA) for the establishment of SHOC has been finalised. Its primary purpose is to provide a legal basis for the operationalisation of SHOC.
He said for SHOC to be fully established as a regional institution, it will require that a two-thirds majority of SADC Member States sign the IGMOA , a process that will need to be expedited and fast-tracked in view of the increasing number and severity of disasters in the Region.
Ambassador Nourrice explained that everyone has seen the havoc that disasters have wreaked in the Region, the impacts of which have been unprecedented. He indicated that thousands of lives have been lost, and so is the development gains made over many years due to infrastructural damage among others. He said the impacts could only get worse if the Region does not immediately set up effective structures to coordinate disaster preparedness and response mechanisms.
Regarding update on implementation of the Summit, Council and Ministerial Decisions, Ministers noted progress on the implementation of the Roadmap and the preparatory processes towards the operationalisation of SHOC as directed by the SADC Council of Ministers of August 2019.
Ministers approved the Terms of Reference for the Nominated National Focal Points for the establishment and the interim arrangements towards start-up activities for SHOC.