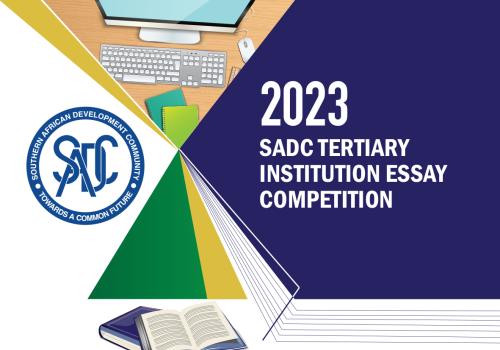 The Secretariat of the Southern African Development Community (SADC) is pleased to announce the launch of the 2023 SADC Tertiary Institution Essay competition to all active tertiary institution-going learners.
The topic of this year's competition is "Describe the roles that the founding fathers might  have played in developing the vision for the regional integration"  The Council Ministers, during its meeting in August 2020, directed the SADC  Secretariat to operationalise the initiative to recognise and honour the Founders of  SADC.
The initiative, as approved by the SADC Council, is aimed at providing due  recognition to the Founders of SADC for their contribution to the establishment of  SADC and subsequent pursuance of a regional integration agenda.  To this end, the SADC Secretariat is calling for submissions of essay entries from  active tertiary institution going learners. The wordings of the think piece and content  should aim at promoting the role played by the Founders of SADC taking into account  the prevailing peace and security which contributes to the SADC's Objectives and  Common Agenda. 
The essay should be 4000 words. The deadline for submission of entries to Ministries  of Education is 28th February 2023. The deadline for submission of entries to the  Secretariat by Ministries of Education is 30th April 2023. Essays are coordinated by  the Ministries of Education in all respective SADC Member States. It is the  responsibility of Government officials in SADC Member States to submit the top 3 essays to SADC Secretariat for adjudication at regional level. NOTE: The  Secretariat will not accept entries from individuals and as such those entries will be  disregarded and disqualified. 
Enquiries
Barbara Lopi, Head of Communication and Public Relations Unit or Innocent Mbvundula, Communication and Relations Officer (External) at the SADC Secretariat; email blopi@sadc.int or imbvundula@sadc.int or ktunda@sadc.int / prinfo@sadc.int or telephone +267 395 1863.