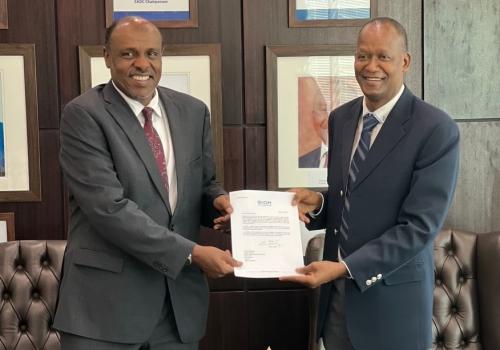 The newly appointed International Organisation for Migration (IOM) Regional Director for Southern Africa, Mr Ashraf El Nour, presented letters of credence to the Southern African Development Community (SADC) Executive Secretary, His Excellency Mr. Elias M. Magosi, in Gaborone, on 22nd October, 2022.
The meeting presented an excellent opportunity for the two leaders to reflect on the ongoing cooperation as outlined in the Memorandum of Agreement (MoU) which was signed in 2016. The MoU provides for cooperation in areas that include labour migration; counter trafficking; combatting smuggling and irregular migration; addressing mixed migration; migration health; and immigration and border management.
H.E Magosi noted that SADC enjoys a cordial relationship with IOM as one of its highly valued strategic partners. Over the years, the (IOM) has supported SADC at both national and regional levels in areas of policy formulation, evidence-based research as well as capacity building.
So far SADC has benefitted from collaboration with the IOM on the development of the Regional Migration Information Management system (Migration Data) and technical assistance in the development of the Regional Migration Policy Framework and Action Plan 2020-2030.   
Furthermore, IOM and the International Labour Organisation (ILO) are actively supporting implementation of the SADC Labour Migration Action Plan (2020-2025) at Member States level, and at the regional level. A SADC Technical Committee on Labour Migration (TCLM), in which IOM participates, has been put in place to oversee implementation of the action plan.
Through the Africa Regional Migration Programme (ARMP), funded by the United States Department of State Bureau of Population, Refugees and Migration, IOM has extended technical and financial support towards the convening of a TCLM meeting scheduled for 26th – 28th October 2022 in Johannesburg, South Africa. The meeting will enable Member States to finalise and submit their country reports on the implementation of the SADC Labour Migration Action Plan.
IOM also supports SADC on capacity building on smuggling of migrants and trafficking in persons; support  to contain the spread of COVID-19, and to mitigate its socio-economic impacts through the IOM's Strategic Preparedness and Response Plan for Southern Africa that was launched in 22 April 2020;  assisted voluntary return support; awareness raising through risk communication and community engagement; capacity-building activities for immigration officials, health and non-health frontline officials on Infection Prevention Control (IPC) at Points of Entry (POE) and disease surveillance through mobility flow monitoring tracking and population mobility mapping.
Mr El Nour, who is based in Pretoria, Republic of South Africa, reiterated IOM's commitment to broaden the scope and areas of cooperation with SADC to cover more issues of migration. The two leaders agreed to convene a joint technical meeting to review the MoU and prioritise new areas of cooperation.