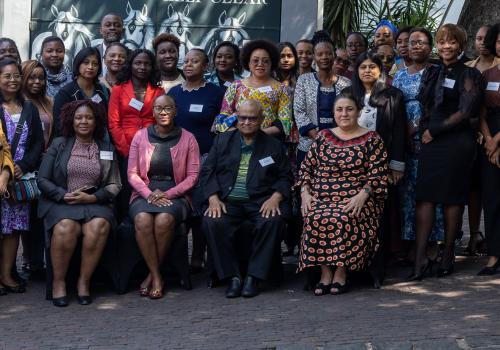 The Southern African Development Community (SADC) Secretariat held a Regional Workshop for Women Mediators in Conflict Prevention and Mediation processes, from 12th to 16th September 2022 in Johannesburg, Republic of South Africa, in collaboration with the African Centre for the Constructive Resolution of Disputes (ACCORD) and the United Nations Women Multi-country Office.
The objective of the regional workshop was to provide knowledge and expertise on gender-responsive conflict prevention and mediation through an understanding and explanation of the factors that cause and trigger conflicts. The workshop also sought to strengthen capacity of women mediators in effective gender-responsive conflict management and resolution through dialogue and reconciliation.
In her opening remarks, Ms Kealeboga Kelly Dambuza, Programme Officer, Gender, at the SADC Secretariat, highlighted the SADC Vision 2050 of achieving "A peaceful, inclusive, competitive, middle- to high-income industrialised region, where all citizens enjoy sustainable economic well-being, justice and freedom."  In addition, one of the objectives of the Regional Indicative Strategic Development Plan (RISDP) 2020–2030 is to enhance conflict prevention, management, and resolution mechanisms with an effective early warning system capable of tracking and monitoring political, security, and socio-economic threats. Ms Dambuza indicated that the workshop confirmed SADC's commitment to ensuring that women play a key role in peace processes, including conflict prevention and mediation.
Ms. Dambuza further indicated that SADC developed the Regional Strategy on Women, Peace and Security, (2018–2022) to operationalise the Women, Peace and Security (WPS) commitments, and address challenges experienced by women and girls in conflict situations. This strategy was recently extended from 2022 to 2030 by SADC Ministers Responsible for Gender to allow for its full implementation by SADC Member States, including through the development of related National Action Plans (NAPs).
She indicated that the presence of deep–seated gender inequalities in many countries across the world has led to a general exclusion of women from decision-making processes in national peace and security processes. In this regard, the training is one of the initiatives towards enabling the implementation of the regional commitments for women's inclusion in conflict prevention and peace-making processes at all levels. She also said SADC Member States have been promoting women empowerment through ongoing regional programmes that seek to enhance the participation of women in the implementation of regional policies and activities to prevent and resolve conflicts.
Ms Dambuza indicated that there has been substantial progress in women's representation and participation in politics and decision-making positions at different levels despite challenges in implementing UNSCR 1325 and other associated resolutions in SADC Region.  SADC Member States have increasingly appointed women in security sector institutions or non-traditional ministerial roles such as defence, police and home affairs, and in national institutions for the prevention, management and resolution of armed conflict.
Ambassador Welile Nhlapo, Senior Advisor to the African Centre for the Constructive Resolution of Disputes (ACCORD), said there is a realisation that women are excluded in conflict management and peace-making and peace-building processes, and that on the settlement of these conflicts, women have not been brought on board. Ambassador Nhlapo also noted that vast resources of women have been tapped optimally and these resources have proven to be some of the most reliable assets in dealing with conflicts on the continent. ACCORD was therefore committed to providing the support needed to strengthen the role of women in peace processes.
The representative of UN Women South Africa Multi-country office, Ms. Molline Marume, said her organisation fully supports capacitating women and building their skills in mediation. UN Women was implementing a programme to roll out the WPS Agenda in the SADC Region. Ms Marume said UN Women was championing the WPS agenda globally by ensuring that women are found in all WPS pillars, participate in peace building, peace keeping and mediation. Measures were being put in place to protect women in conflict and crisis situations, and including mechanisms to prevent Sexual Gender Based Violence. She said the UN Secretary General had appointed a special envoy just to address SGBV in conflict situations. UN Women was supporting in relief and recovery efforts as women were not only at the centre but were part of the teams developing these efforts to shape them so that they are not treated just as victims, she said.
This workshop was attended by representatives from the Ministries of Gender, Foreign Affairs and Social Services and it served as a platform for dialogue on the establishment of a Network of Women in Conflict Prevention and Mediation for the SADC Region.