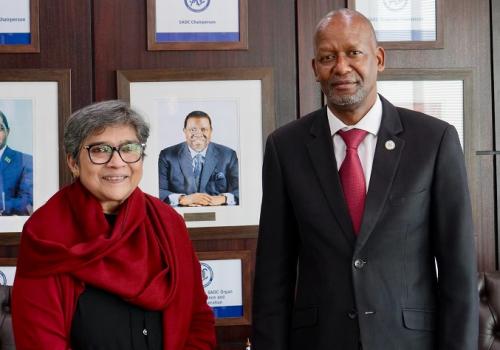 United Nations Under-Secretary-General and High Representative for the Least Developed Countries, Landlocked Developing Countries and Small Island Developing States (UN-OHRLLS), Her Excellency Rabab Fatima, paid a courtesy call on HE Mr. Elias Magosi, Executive Secretary of the Southern African Development Community (SADC), on 29th May 2023, at the SADC Secretariat Headquarters in Gaborone, Botswana.  
The purpose of the meeting was to discuss possible areas of collaboration as well as preparations for the 3rd UN Conference on Landlocked Developing Countries to be held in Rwanda in 2024, which follows the previous 2nd Conference that was held in 2014 in Vienna, Austria. 
Ms. Fatima apprised the Executive Secretary that the 2nd Conference adopted the Vienna Programme of Action for Landlocked Developing Countries (2014-2024), which aims to contribute to the eradication of poverty. In this regard, the planned 3rd Conference is meant to review progress on the implementation of the Programme of Action.
She highlighted that most of the countries classified as landlocked, transit, small island states and least developed countries (LDCSs) are in Africa. She said of the 32 LDCs, 16 are in Africa, therefore, necessitating the need to strengthen cooperation and partnership with Regional Economic Communities (RECs), including SADC. 
The SADC Executive Secretary observed that the priorities of the UN-OHRLLS are aligned to the overarching priorities of the Regional Indicative Strategic Development Plan (RISDP 2020-2030) and the Prioritised RISDP Projects that were recently approved by the SADC Council, which is used by the Secretariat to inform the engagement of partners, in March 2023. 
He mentioned that currently the focus of SADC is on impact as more work has been undertaken to lay a good foundation in the context of developing key policies, protocols, and strategies. He highlighted that now the priority is to implement key hard infrastructure projects that contribute effectively to the implementation of the regional integration agenda. 
H.E Magosi further said that the key priorities of SADC include peace and security, which has been identified as a foundation pillar and enabler of regional integration. He said although the Region has remained largely peaceful, there are concerning sporadic security situations in the Democratic Republic of Congo and Mozambique. However, the relevant structures of the SADC Organ on Politics, Defence and Security are seized with these matters, with a view to arrest the prevailing security threats and attainment of long-lasting peaceful solutions. 
The Executive Secretary said industrialisation remains key in the development agenda of SADC, with primary focus on key value chains in agriculture, mining, and pharmaceuticals. He said that the COVID-19 experience provided critical lessons on the need to strengthen pharmaceuticals, which are in urgent need of support on skills and capacity to maximise on the existing comparative advantage. 
To facilitate cooperation between the two sides, the meeting agreed on the urgent need to prepare and finalise a Memorandum of Understanding that will facilitate collaboration on the implementation of identified priorities of mutual interest.