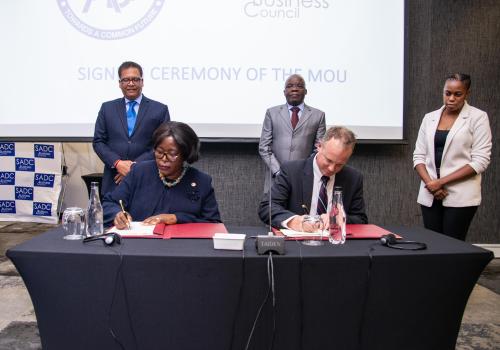 The Southern African Development Community (SADC) and the SADC Business Council have signed a Memorandum of Understanding (MoU) aimed at strengthening private sector collaboration and participation in the promotion of industrialisation, investment, regional and international trade, and contribution to the economic and social development of SADC Member States. 
Representing the Executive Secretary of SADC, His Excellency Mr Elias Magosi, the Deputy Executive Secretary for Corporate Affairs at the SADC Secretariat, Dr. Judith Kateera, and Mr. Peter Varndel, the Chief Executive Officer of the SADC Business Council signed the MoU which will promote cooperation on Trade and Trade Facilitation, Finance and Investment, Industrial Development, Micro, Small and Medium Enterprises (MSME) Development, Sustainable Development, Tourism and other services sectors, to support the development of Infrastructure, industries, and Human Capital.
The signing ceremony took place on 25th October 2023, in Johannesburg, South Africa at an event attended by Mr Vicente Soares, President of the SADC Business Council and President of the Angolan Chamber of Commerce and Industry, Ms Anneline Bremer, Head of Cooperation of the German Embassy to the Republic of Botswana and SADC, and representatives from SADC Business Council Members 
Speaking during the signing ceremony Dr. Kateera highlighted the importance of cooperation between the public and private sectors in fostering regional economic development, and added that, "this shift towards a more symbiotic relationship between government bodies and private enterprises is a key driver for sustainable and inclusive development in the region."
On his part, Mr. Varndel said the signing of the MOU was a testament to the commitment by the two parties towards the growth and prosperity of the SADC region. 
The SADC Business Council (SADC BC) is a Regional Apex body of national business associations of the 16 SADC Member States and Regional Business Associations in Southern Africa. It is mandated by the private sector to be the prime partner to the public sector, influencing high-level policymaking related to markets access, industrialisation, value chains development and socio-economic development at a regional, continental, and global level.