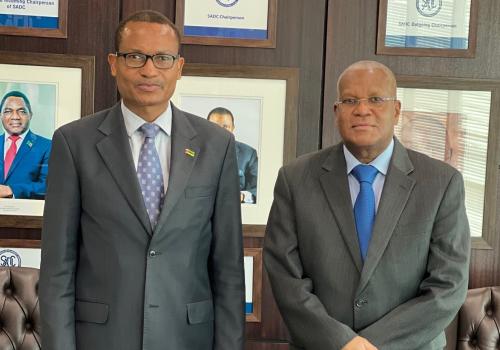 H.E Domingos Fernandes, High Commissioner of the Republic of Mozambique to Botswana and SADC and H.E. Mr.  Malainin Mohamed Ambassador of the Saharawi Arab Republic on 14th September, 2022 paid a courtesy call to the Secretariat of the Southern African Development Community (SADC) to bid SADC farewell as their tour of duty is coming to an end.
The two envoys were received at the SADC Secretariat by the Deputy Executive Secretary for Corporate Affairs, Ambassador Joseph Nourrice.
In separate brief engagements, H.E Fernandes commended SADC for the deployment and outstanding coordination of the SADC Mission in Mozambique (SAMIM) on 15th July, 2021 which he said has helped to restore peace and stability in Cabo Delgado Province.
The High Commissioner also appealed for fast-tracking of the operations of SADC Humanitarian and Emergency Operations Centre (SHOC), which is being hosted by the Republic of Mozambique to coordinate regional disaster risk preparedness, response and early recovery to Member States affected by disasters.
Once operational, the SHOC will facilitate supply chain management of equipment and supplies for SADC responders during humanitarian support deployments.
For his part, H.E Ambassador Mohamed of Saharawi Arab Republic appreciated SADC's support on the right of the Saharawi people to self-determination and independence. He underscored that the operationalisation of the Memorandum of Understanding (MoU) signed in June 2020 between SADC and Saharawi remains critical in promoting the existing cooperation between the two entities.
He congratulated SADC for successfully hosting the 42nd Ordinary Summit of Heads of State and Government held in Kinshasa, Democratic of Congo on 17th August, 2022. He committed his country's readiness to continue to work closely with SADC to promote peace and stability on the African continent.
H.E Mahamed is the first Ambassador to Botswana and Representative SADC following the opening of the Embassy in Gaborone in 2019.
The Deputy Executive Secretary recalled the position of SADC towards Saharawi people to self-determination and independence, in line with the decision of SADC Heads of State and Government taken during the Solidarity Conference held in March, 2019.
Ambassador Nourrice took the opportunity to wish the two outgoing ambassadors well in their future undertakings.