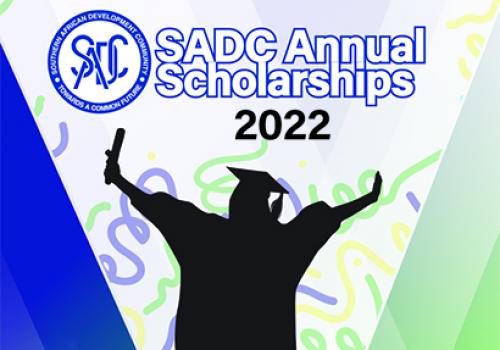 The Secretariat of the Southern African Development Community (SADC) announces the launch of the SADC Annual Scholarship for 2022. All active tertiary school-going learners from the Southern African Development Community (SADC) Member States are welcome to participate in the competition. SADC Secretariat Staff and their immediate families are not eligible to apply for these scholarships.
In 2019, the SADC Secretariat commissioned a Consultancy to enable the development and finalization of a Mechanism that designed to facilitate the recognition of and honour the Founders of SADC for their contribution to the estabishment of SADC and subsequent pursuance of a solid regional integration agenda. The Mechanism in Honour of the Founders of SADC was approved by Summit in August 2020.
The aim of the Mechanism in honour of SADC Founders is to increase the level of SADC citizens' awareness on the history of the liberation of Southern Africa, cooperation and regional integration, as well as to recognize the contribution by Founders of SADC to the SADC. The SADC Founders include, Presidents Julius Nyerere of Tanzania, Kenneth Kaunda of Zambia, King Sobhuza II of Eswatini, Seretse Khama of Botswana, António Agostinho Neto of Angola, Robert Gabriel Mugabe of Zimbabwe, Samora Machel of Mozambique, Dr Kamuzu Banda of Malawi and King Moshoeshoe II of Lesotho.
Consequently, the SADC Secretariat will award annual scholarships for the years 2022 and 2023 to full-time taught Masters, Doctoral, Postdoctoral Studies or Research to promote research on the roles played by the SADC Founders. The research scholarship is available to post-graduate researchers in any discipline (who hold a master's degree as a minimum) who are planning to pursue research or further studies at doctoral or post-doctoral level.
Enquiries
Barbara Lopi, Head of Communication and Public Relations Unit or Innocent Mbvundula, Communication and Relations Officer (External) or Peter Mabaka at the SADC Secretariat; email: prinfo@sadc.int or blopi@sadc.int or imbvundula@sadc.int or pmabaka@sadc.int or telephone +267 395 1863.
Download all the relevant documents Attached below;