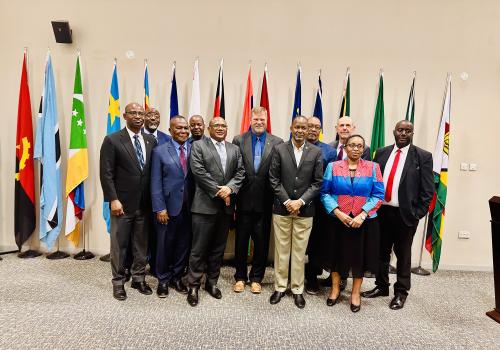 A high-level delegation from Michigan State University (MSU), and the University of Botswana (UB), paid a Courtesy Call on the SADC Executive Secretary His Excellency Mr. Elias Magosi at the SADC Secretariat on 13 October 2023. These Universities represent a Consortium of Think Tanks and Academic Institutions known as the Alliance for African Partnership (AAP).
The delegation included Professor Thomas D. Jeitschko, Interim Provost and Executive Vice President of Michigan State University, Professor David  Norris, Vice Chancellor of the University of Botswana, and Professor Richard Mkandawire, Africa Director of the Alliance for African Partnership (AAP)  and other Senior Officials from MSU, UB, and AAP.
The visit provided an opportunity for both parties (SADC-APP) to reaffirm their  commitment in signing a Memorandum of Understanding (MoU) which will facilitate the implementation of agreed upon priorities initiatives.
Looking forward to the partnership, Prof. Jeitschko informed the meeting that the possibilities of collaboration between SADC and AAP are as vast as the potential of the African continent itself. "We envision a future where our combined efforts will drive innovation, empower the youth, and foster prosperity throughout the region. We look forward to leveraging our expertise, resources, and the incredible wealth of knowledge that exists within both our organisations to make a tangible impact".
On his part, H.E. Magosi welcomed the delegation and stated that the SADC Secretariat appreciates the existing collaboration with AAP which is geared towards accelerating the socio-economic transformation of the region and insisted that the collaboration needs to be strengthened.  Over the past two years, SADC Secretariat and the AAP have initiated collaborative efforts in a few priority interventions in support of the SADC RISDP 2020-2030. 
These interventions include:
Youth empowerment and entrepreneurship (strengthening University-based Incubation Hubs). 

Indigenous crops project.

Establishment of the SADC Think Tanks Network.

Building a critical mass of human capital in high priority disciplines including STEM.
The Executive Secretary further underscored the importance of SADC Secretariat to continue engaging with Think Tanks and Universities through such partnerships to inform policies and strategies, while implementing the regional integration agenda.
After the Courtesy Visit, the delegation from AAP met with the relevant Directorates to revisit these key areas of collaboration discussed in previous meetings and to  agree on the way forward.