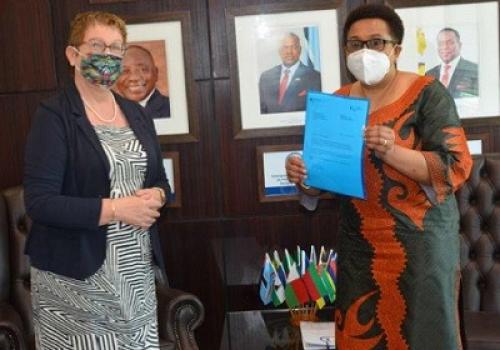 On 25th November 2020, the new Ambassador of the Federal Republic of Germany to Botswana and Southern African Development Community (SADC), Her Excellency Ms. Margit Hellwig-Boette, presented Letter of Credence to the SADC Executive Secretary, Her Excellency Dr. Stergomena Lawrence Tax.
During the ceremony, SADC and the Federal Republic of Germany signed two agreements to support Trans-Frontier Conservation Areas (TFCAs) in the Region and strengthen infrastructure for trade and consumer protection, transboundary water management, climate resilience and management of natural resources.
The agreements, agreed upon at the bilateral negotiations between SADC and Germany in November 2019, are on Financial and Technical Cooperation in support of TFCAs Financing Facility and Training Facilities and Programmes for Wildlife Rangers and Managers (for Financial Cooperation); and Strengthening Quality Infrastructure for Trade and Consumer Protection, Transboundary Water Management, and Climate Resilience and Management of Natural Resources (for Technical Cooperation).
Speaking during the ceremony, H.E Dr Tax hailed the Government of the Federal Republic of Germany for the support provided in a number of areas at both national and regional levels, and highlighted that the signing of the two agreements are important milestones in strengthening the bilateral relations between SADC and Germany. She congratulated Ambassador Hellwig-Boette on her appointment and welcomed her to SADC. She further assured the new Ambassador of the Secretariat's commitments towards continued cordial relationship with her, as was the case with her predecessor, Ambassador Ralf Breth.
Ambassador Hellwig-Boette thanked the SADC Executive Secretary for the warm welcome and highlighted that Germany remains committed to enhancing cooperation with SADC in support of regional integration and development. She indicated that in the spirit of continued support to the SADC region, her office is committed to cooperating further with SADC on areas of mutual interests.
The two parties reiterated their commitment to strengthening cooperation in line with the SADC Vision 2050 and the priorities outlined in the Regional Indicative Strategic Development Plan (RISDP) 2020-2030, as they engage in preparing for the next bilateral negotiations between SADC and Germany that are planned to take place in Germany in the second half of 2021. They also agreed to develop success stories to enhance visibility of SADC-Germany cooperation.
During the meeting, the SADC Executive Secretary was accompanied by the Deputy Executive Secretary for Corporate Affairs, Ambassador Joseph Nourrice; Legal Counsel, Kachule Mphatso; African Union Reforms Expert in the Office of the Executive Secretary, Mukundi Mutasa; and the Resource Mobilisation Officer from the Directorate of Policy Planning and Resource Mobilisation, Andoniaina B. Andriamiandrisoa. Ambassador Hellwig-Boette was accompanied by the new Development Counsellors from the Embassy of the Federal Republic of Germany to Botswana, Mr Marcel Grella and Mrs Annelene Bremer, who were also introduced during the meeting.